Welcome to Rockster Pens
I'm Ash and from my workshop in beautiful Wales, UK, I make high quality custom fountain pens.
In an increasingly digital world some of the most important decisions we make still involve the use of a pen, whether getting married or signing a contract for a new house. Even hand writing a letter to a friend or loved one will always carry more meaning than sending an email. Using a beautiful pen on such occasions only adds to the experience.
I use a variety of high quality vintage and modern materials such as celluloid, acrylic and natural wood. I also occasionally cast my own unique resins which are exclusive to me here at Rockster Pens.
Due to the hand made nature of my work each pen is completely unique and provides the owner with a beautiful and useful writing companion which is something that can be handed down for many generations.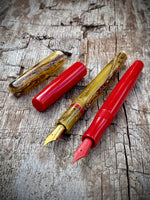 Ordering A Pen
I love making fountain pens. It is a very creative and rewarding process, from the initial design and selection of materials, right through to the making and final polishing of the pen.
Throughout each stage I am always aware that one day somebody, somewhere in the world, may use it to write a letter or to contribute to their own creative output through writing or drawing, and that makes me happy.
So if you are considering a pen then the link below gives an overview of styles, options and prices. You can also look at the Pen Catalogue link above. This shows a selection of previously made pens. If you see something you like then I can almost certainly make something similar.
Commissioning A Pen